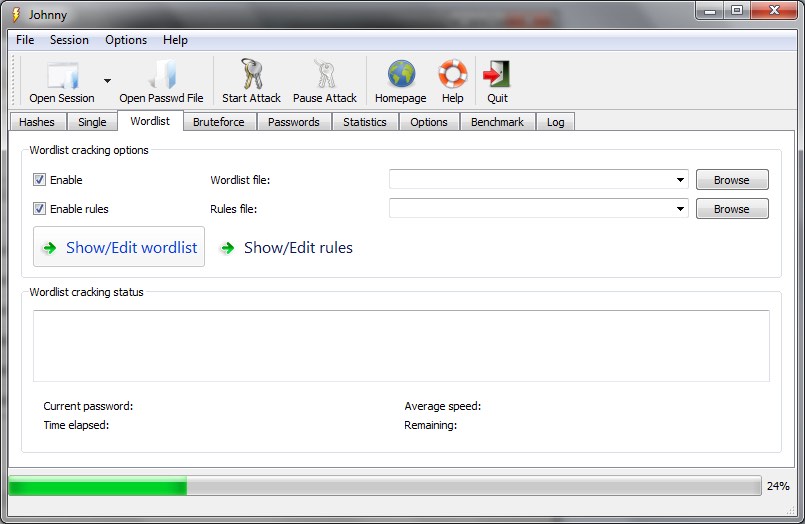 If you want to do roughly the same thing, but with for example a mixture of letters and digits, you can still use the same basic idea. I feel like its the easiest thing for me to do. This article needs additional citations for verification. Data Encryption Standard , these restrictions are no longer in place, so modern symmetric algorithms typically use computationally stronger to bit keys.
| | |
| --- | --- |
| Uploader: | Mezilmaran |
| Date Added: | 28 May 2008 |
| File Size: | 35.71 Mb |
| Operating Systems: | Windows NT/2000/XP/2003/2003/7/8/10 MacOS 10/X |
| Downloads: | 58697 |
| Price: | Free* [*Free Regsitration Required] |
It will not show you the current password without finding the password in the registry Don't mess with the registry unless you know what you are doing. I've tried both letters only and the "mixture of digits and letters"both are looping from 1 toI don't see any letter.
He's absolutely correct that what you're doing it basically just counting. There are lots of guides on how to do this. Brute force search should not be confused with backtrackingwhere large sets of solutions can be discarded without being explicitly enumerated as in the textbook computer solution to the eight queens problem above. That would work but I would like to keep the password the same so it would be unknown that I got in.
10 Best Password Cracking Tools Of 2016 | Windows, Linux, OS X
One site in particular is the Hidden Wiki. The one and only difference porgram those cases is the "for loop" count. Like you clear the hash and then restore the hash again, thus restoring the password.
Of course, the absolute speed will depend on how long progrzm takes to test a password, but as long as you can test passwords concurrently from multiple threads or testing a password is a lot faster than generating one you can gain considerable speed from multithreading this pfogram.
If that makes sense and is even possible lol. Thanks to its ability to import and use hashes from multiple formats and sources, OphCrack is known to crack the passwords of a Windows computer in few minutes. Also on EC2 servers.
Best brute force password cracking software? : hacking
While that's better than my dataset of null, it doesn't put you in any kind of btute to act like an authority. Retrieved from " https: Spam as in links that violate the spam guidelines found here Off-topic posts will be treated as spam. The one and only difference between those cases is the "for loop" count, case 1 progra 1 for loop, case 8 got 8 nested for loops. Cain and Abel has two components. A desktop computer tests more than hundreds of millions of passwords per second.
GPUs benefit from their wide availability and price-performance benefit, FPGAs from their energy efficiency per cryptographic operation. It's got all sorts of goodies, and will work fine if you just want to copy stuff off of the other hard drive.
Ill definitely read up frce this. Is there somewhere I read up on this or could you give me a link? Adding one more piece to a chess ending thus making an 8-piece tablebase is considered intractable due to the added combinatorial complexity.
Brute-force attack
But thank you for your input still! Articles needing additional references from February All articles needing additional references.
The first core will start looping only the 8 character length ones, and second core will do the same with 7 character length ones An unsigned long long has a range of at least 64 bits, and generating all bit numbers will take longer than you're probably willing to wait even if we ignore conversion and testing the results, just counting from 0 to 0xffffffffffffffff will take longer pfogram most people are willing to wait.
So it should wait for 1, 2, 3 to get the 4 digit ones. By using our site, you acknowledge that you have read and understand our Cookie PolicyPrivacy Policyand our Terms of Service. We convert each of those from a number to a string, then test the resulting string.
This is known as an exhaustive key search. If you're willing to spend money your best bet is Cloud Cracker. Personally, I could not get burte to boot on my macbook pro due to it not playing nice with the modified EFI filesystem, but it should boot fine on your typical BIOS pc.
The key length used in the encryption determines the practical feasibility of performing a brute force attack, with longer keys exponentially more difficult to crack than shorter fofce. Can you possibly give me a link to read up on this?